Amanda's Reiki Share is held near Court Hey Park in Liverpool on the third Sunday of each month.
A Reiki share offers many benefits and if you have received an attunement in person, you're more than welcome to join us. Please read on for further information. However, if you're looking for a Reiki treatment, please click here.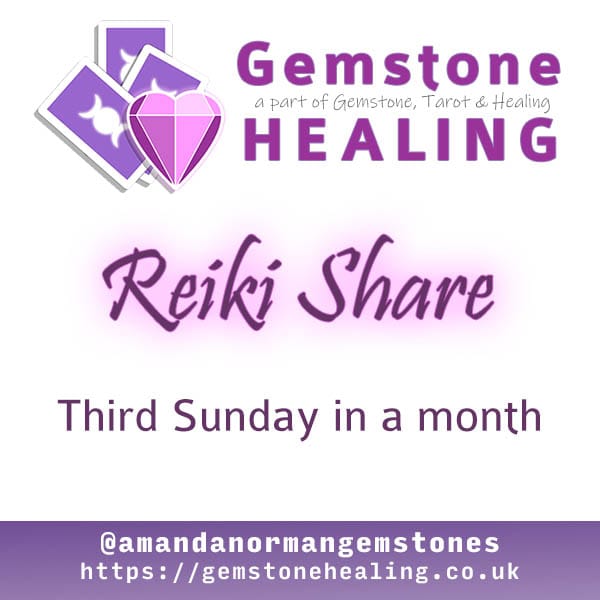 Join me on the third Sunday of each month for Amanda's Reiki Share.
Benefits of a Reiki Share
Firstly, when participating in a Reiki share with like-minded people, you will most definitely, experience how powerful Reiki is.
Secondly, you also get to practice and update your Reiki knowledge with the added benefit of nurturing your soul with loving Reiki. In addition, it's simply perfect for some much-needed self-healing. It's sometimes easy to neglect ourselves with Reiki and therefore, it's a perfect opportunity to feel what it's like to receive it.
We begin our session with a meet and greet, which is an opportunity to share our experiences of Reiki over the past month. Subsequently, talking about our fears and joys is a major part of owning our self-healing.
Next, we begin our Reiki share.
Each of us in turn gets to experience Reiki from several practitioners of all levels at once. It's simply an amazing experience especially when you feel the accumulation of energy within the room. Furthermore, attending a Reiki share also assists with your CPD (Continued Professional Development) requirements.
Venue: nr Court Hey Park
Cost: £5
Time: 14:00 to 16:30
How do I join? Contact Amanda on 07916 543 785
Requirements for joining
Amanda's Reiki share is open to anyone who has been attuned in person and has a certificate of proof. The National Occupational Standards for Reiki require practitioners to have a Reiki lineage that can be traced directly back to Mikao Usui and have been attuned/initiated in person. The Reiki Council.
No matter what your level of Reiki is, you will be welcome.
Additionally, I'm a proud UK Reiki Federation member. I agree to a code of practice, which is a guarantee to the public that they will receive the highest standard of attention and care.