Amanda is offering Reiki in Liverpool from two locations at times to suit you. Additionally, you will find Reiki to be a wonderful, relaxing experience as it works on soothing your emotions and reducing any negative feelings.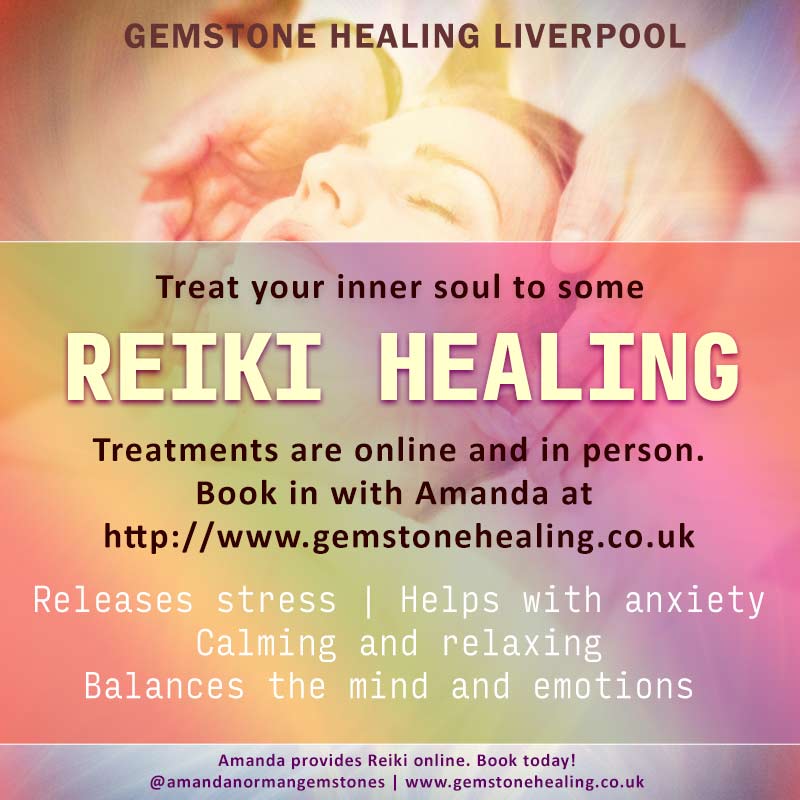 Furthermore, Amanda's Reiki treatments include the following: –
Relaxing deepener
Crystal therapy
Spiritual life coaching
Auric cleanse that includes chord cutting
Pre and post consultation
View current PRICE LIST here
---
Reiki in Liverpool
Amanda offers two session of Reiki with crystals because she understands that some people prefer to pamper themselves.
Reiki with Crystals 40 minutes is a standard session front only.
Reiki with Crystals 60 minutes is a deluxe session where time isn't an issue.
Please add an additional 25 minutes to the times above to allow for pre and post use consultation. In addition, first time Reiki client's will need to add a further 45 minutes for a one off consultation.
Benefits of a Reiki Treatment
Reiki is a wonderful, deeply relaxing experience that provides healing energy on a physical, mental, spiritual, and emotional plane. Additionally, the main benefits of a Reiki session are as follows: –
Reiki works releasing your stresses, which subsequently, if allowed to remain can lead to illness
It's an effective way of creating a high level of well-being thus resulting in balancing your mind and emotions
Reiki wonderfully works on healing your body, mind, and spirit
As a result of receiving Reiki, you begin developing a positive attitude
Furthermore, Reiki expands your creativity
Also enhances your personal growth while increasing your energy
Additionally, you will leave feeling wonderfully calm and relaxed
Furthermore, Reiki can help you to relieve pain and insomnia
Reiki can also speed up recovery from surgery or long-term illness
Finally, using crystals doubles the healing energy
Reiki in Liverpool Locations
When choosing Reiki in Liverpool, Amanda offers Reiki in two locations at varying times.
St John's Market in Liverpool city centre – Wed, Thu, Fri 12:00 to 17:00 and Saturday 10:30 to 17:00
Bowring Park area of Liverpool, L16 – Monday and Tuesday 10:30 to 20:00, and evenings throughout the week.

Amanda's home offers peace and tranquil surroundings. Furthermore, in the summer, you can have Reiki outside in her beautiful garden setting. Both evening and daytime appointments are available.
Finally, if you would like to learn more about Amanda's style of Reiki, please visit her Reiki FAQ page.
Book Reiki in Liverpool
Please read the terms and conditions below before arranging your appointment.
You have the option of choosing telephone or using the form below.
Telephone Amanda: 07916 543 785 – If there's no answer, please leave a voice message with the best time to call you back. She may be unable to answer your call if she's working with a client.
You should receive a reply within 24 hours. Please check your spam or junk mail folders if you haven't received a reply.