Join me in person to experience the magic of crystal healing and manifestation. Together we will create you, your very own crystal healing bracelet.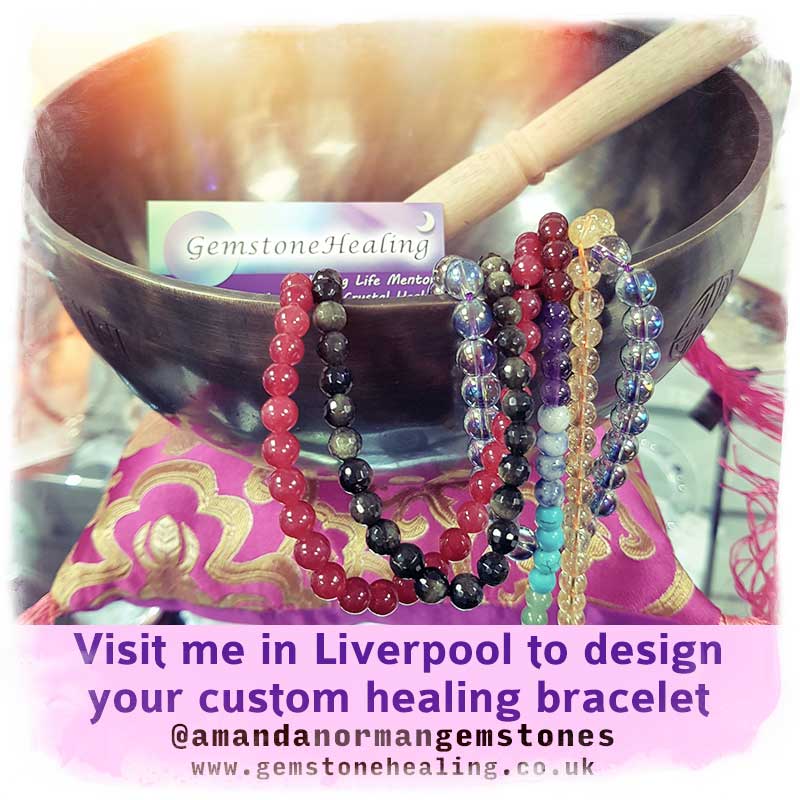 Nothing gives me greater pleasure than a client leaving with a specially made crystal healing bracelet that they will treasure.
Firstly, to select the correct crystals for your needs, we will enter a friendly consultation and I will perform a chakra health check using a crystal pendulum
Secondly, I will advise you on the appropriate colours and crystals to use, and together we will design your perfect bracelet
We will then set you an affirmation to use with your bracelet. I've included further information about affirmations below
Lastly, I will perform a ritual that will seal the healing energy within your bracelet
Minimum fee is £30 with your bracelet containing .925 silver and genuine, ethically sourced crystals
Although I do have walk in appointments, it's advisable that you book in with me to ensure that I have plenty of stock on the day of your visit.
Crystal Healing bracelet service in Liverpool
You can find me within St John's Market, the first floor of St John's Shopping Centre in Liverpool.
How it works and the importance of energy
To understand why I consider my crystal healing bracelets to be powerful, you need to understand the importance of energy and its healing effects.
Our thoughts create energy and what we think, we create!
What we feel, we attract!
This is the Law of Attraction!
It's important that we try to keep a positive mindset, which isn't always easy. Even I struggle with this at times, but recognising that you've slipped is your first positive step to switching back. Repeating your affirmation will help you get back on track.
I love my bracelet, it's made especially to deal with anxiety. Since wearing this bracelet my anxiety headaches have stopped! Highly Recommend xox

Heather B 2020
Intention and your crystal healing bracelet
From the moment the idea of a bracelet enters your mind, your thoughts and ideas create your positive intention, which in turn is positive energy.
It's your aim or purpose to wear a crystal healing bracelet that will make you feel better about something. The same applies if you're gifting a bracelet to someone special.
The power of manifestation
Together with our intention, we will manifest the perfect crystal healing bracelet.
Intention is positive energy!
Thank you @Amandanormangemstones for my 10 card reading & custom made healing stone bracelet. Not only did you give me a reading that was spot on, you sent me a photo of my 10 cards with a full write up of my reading. You then designed me a choice 2 custom made bracelets to give me mental focus, confidence & willpower based on my reading. I love my chosen bracelet & have been wearing it everyday xxx

Joanne 2020
Your healing bracelet ritual
Once your crystal healing bracelet is complete, the final act is to seal in the positive and healing energy with a final ritual.
Using my Reiki and my precious singing bowl that's infused with the energy of a full moon, your bracelet will be complete. I fully believe that your bracelet will be a powerful influence to your wellbeing.
Affirmation and your crystal healing bracelet
When we want to change or improve an aspect of ourselves, we can use an affirmation to achieve it. Each time you put on your crystal healing bracelet, repeat the affirmation. The same applies when you notice it on your wrist or in your jewellery box.
What is an affirmation?
It's a true statement that reflects how you feel or how you want to feel.
Repeatedly saying an affirmation can program your mind into believing it. This is because your mind doesn't know the difference between real life or fantasy. A good affirmation though, is one that you believe in and the process of working with me to create your bracelet, will help formulate a powerful affirmation.
Is there anything else I should know?
I'm creating your crystal healing bracelet using crystals and silver from ethical sources.
To read more, please read our ethical policy.
There may be occasions when you're looking for something more specific and in these circumstances, I will have to speak with my suppliers. I may have to take a deposit if I have to order in additional items, but I will discuss this with you prior to proceeding with the design.
You will find examples of my latest handmade bracelets online at Gemstone and Tarot store and also within St John's Market in Liverpool, L1 1LR .
Caring for your crystal healing bracelet
Although I take great care with the type of elastic and glue used for the knot, you still need to ensure that you don't get it wet. As with all crystal gemstones, care needs to be taken. Keep away from perfumes and other chemicals.
Please read the terms and conditions below before arranging your appointment.
You have the option of choosing telephone or using the form below.
Telephone Amanda: 07916 543 785 – If there's no answer, please leave a voice message with the best time to call you back. She may be unable to answer your call if she's working with a client.
You should receive a reply within 24 hours. Please check your spam or junk mail folders if you haven't received a reply.