Reading my tips for a positive tarot reading, is a good place to start when requiring a tarot reading. Furthermore, working with tarot cards will provide you with information that can undoubtedly unlock your true potential.
My job as your tarot reader is to help you receive this information, but it helps if you understand what a tarot reading is. Hopefully my top tips will help you make an informed choice when approaching me for a tarot reading.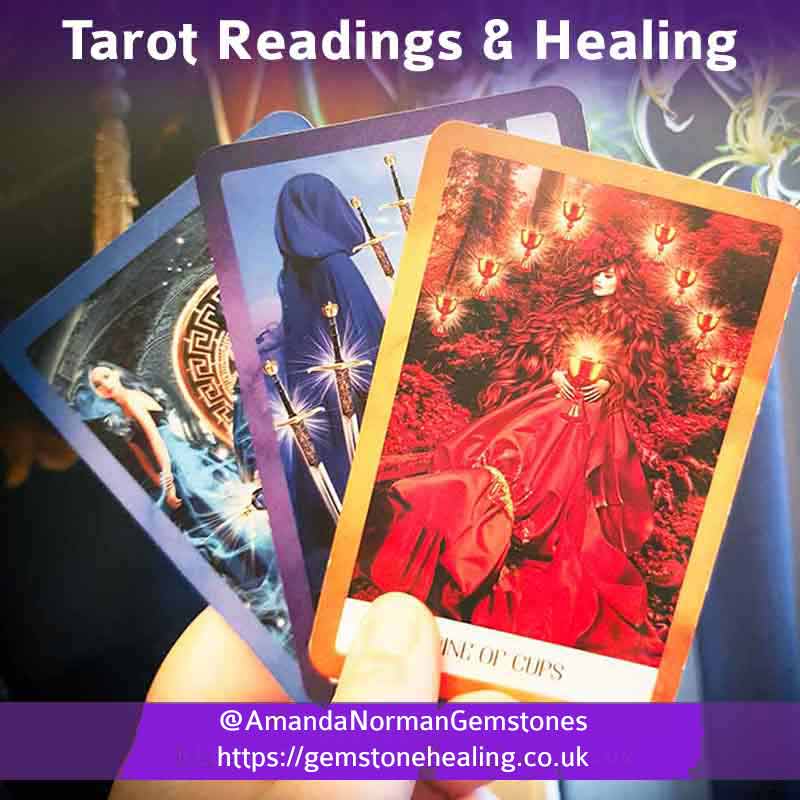 At my shop in Liverpool city centre, I allow walk-in appointments. However, I suppose it comes with the territory that some people won't know my style of reading upon entering. Sadly, on the rare occasion, expectations are not met despite me explaining my style of reading before I begin.
I will not be predicting your future
Let me say now. I'm not a fortune teller who entertains you with news of winning the lottery or predicts your future.
My style of tarot reading is one of reflection and spiritual healing.
When you consult the tarot cards, hopefully you are wanting to gain clarity and insight into something that's bothering you. You maybe wanting answers regarding a situation, feeling, or a behavioural issue. To get the most out of a tarot reading, think about what the cards can tell you about your situation.
The cards will reveal information from your subconscious that will help you with revealing truths that you're not aware of. Once revealed, you can make informed decisions and work towards creating the future you would like. We call this shadow work.
My style of tarot reading is not a fortune-telling experience.

Amanda
Of course, I wholeheartedly believe that the tarot cards can give you an idea of what lies ahead for you. However, the true magic unfolds when we use the Tarot as a tool for reflection and personal development.
If we understand our motives and reflect on our experiences, we can dramatically change the way we do things. We can affect our own future and become a lot happier. Therefore, a tarot reading is very much a spiritual healing experience. Indeed, I turned to a daily three card spread as a form of self-therapy to recover from my anxiety.
Top tips for a positive tarot reading
With this in mind, allow me to present my top tips to allow you to experience a positive tarot reading.
What would you like to know from the tarot cards?
Firstly, don't come in expecting to test me on my psychic skills. You're wasting your money! You need to remember that I don't know you and I don't know what your situation is. I will use my intuition to interpret the cards.
To get the most out of your session, please tell me what you would like to know. Then, please work with me. Don't be that person who doesn't say anything.
Also, please have an open-ended question such as, what do I need to know about my chances of promotion?
I can go into a lot more detail when you work with me. I can provide you with good advice that will assist you with your chances of promotion.
Can you predict my future?
No!
There are too many variables that affect an outcome. The tarot cards will reveal what you need to know so that you can affect your future. You reap what you sow!
We are shaped by our many experiences both good and bad, which affects our decision-making.
Reflection and shadow work allows us to go deep within. This can helps us to see the truth of a situation with wiser eyes. Our subconscious mind works better with metaphors and symbology and a tarot reading is a revelation of truth and surprise.
Top tips continued
Make the most of your time
Each tarot reading is for a short duration. I don't want you to run out of time by asking me questions at the very end. Please work with me to get value for money.
If you're wanting me to prove to you that I have psychic abilities, then I'm not the reader for you.
We are all born with psychic and healing abilities. Some of us choose to hone in on them and enhance them. As they say, practice makes perfect.
Am I the right tarot reader for you?
My style of tarot reading could be termed as a spiritual healing.
My intention as a practicing holistic therapist is to provide you with an enlightening experience. I want you to leave my reading with a positive mind set. This will allow you to work towards your future goals and happiness. I believe wholeheartedly in the magick of the Universe and spiritual healing.
If you would like a tarot reading, please book in here. If you would like to learn how to read the tarot, check out my tarot lessons page.