If you're feeling tied up in knots and you can't seem to get anywhere, then it's time for some shadow work, or self-therapy.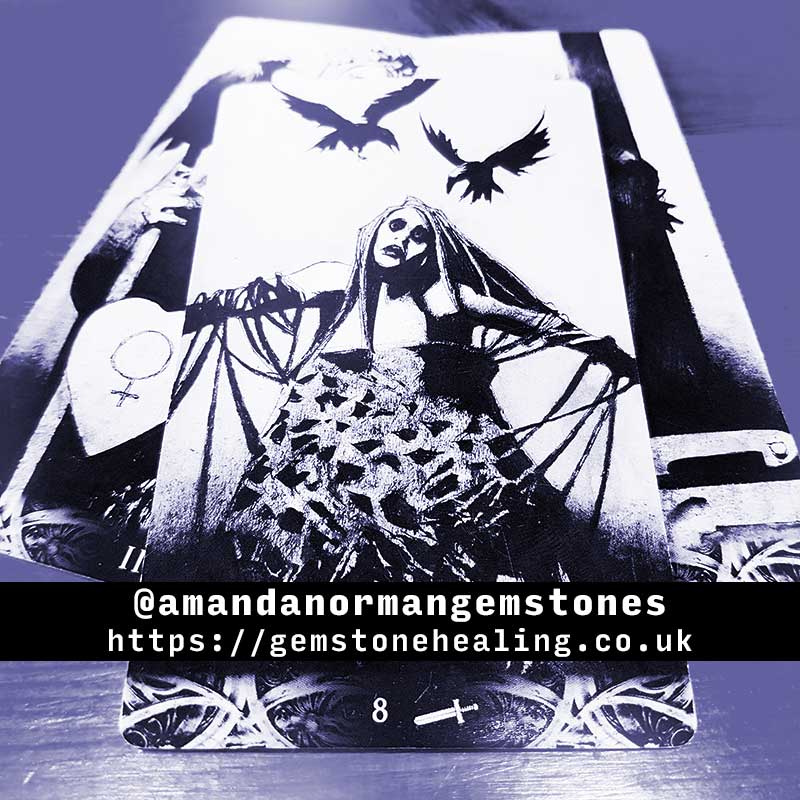 My favourite method of shadow work is to use the Tarot as it challenges me to look beyond the surface. It takes a lot of skill to do this as a form of self-therapy, so it's no wonder people like to visit a tarot reader. If you can challenge yourself to see the bad and not shy away from it, shadow work using the Tarot can be significantly rewarding.
The image above shows the Eight of Swords tarot card from the beautiful Murder of Crow's deck that we currently stock. You can clearly see a figure tied up in knots while the crows squawk chaotically above. The ties restricting movement are self-imposed, and it is these very ties that are holding them back.
Tied up in knots
If you're feeling tied up in knots and are desperate for change, wishing to move forward, how do you feel when trapped?
You may feel vulnerable, stressed or even anxious. The longer it lasts, the more susceptible you are to lowering your confidence and self-esteem. Leaving it longer can lead to conditions such as anxiety and depression.
Firstly, take time out and have a serious think about what is holding you back. In most cases, it will be fear of some kind and if so, it's time to face that fear.
Secondly, is your fear irrational?
There's only one way to find out and that is to ask yourself, 'what is my worst case scenario?'
Keep on asking this question until you can't think of anymore scenarios. Hopefully, you will figure out that your fear is irrational, but if it's a genuine fear, you need to tackle it head on.
What steps can you take to resolve your situation?
Firstly, challenge your limiting self-beliefs.
What do you think you can't do, or be, and why?
If you would like my help please don't be afraid of asking. There's a lot of truth in the saying, 'a problem shared is a problem halved'. By tackling it, you are freeing yourself of your own self-imposed bonds, and it's this very act that will take you forward to success.
My tarot readings are a form of healing. Furthermore, I'm a practicing Reiki master, hence another reason why healing energy flows. Please visit my sister website learn Reiki, to sign up.
Lastly, if you would like me to teach you how to perform tarot readings in a confident manner, please click the link, learn tarot.