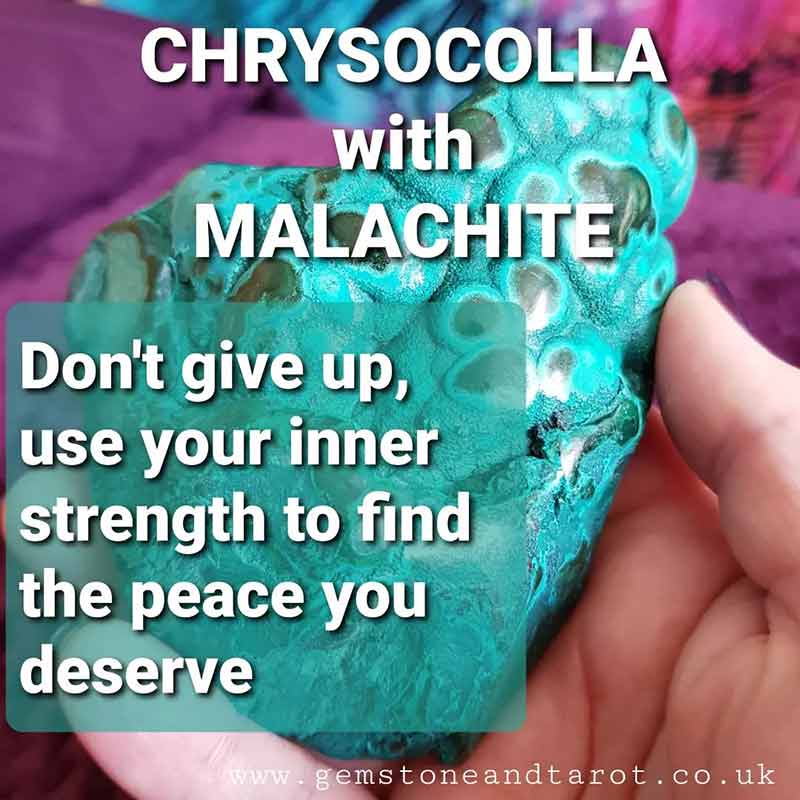 This morning with my Chrysocolla and Malachite crystal, I decided to connect with its energy during my Crystal Spa Reiki experience. I very much enjoyed it and discovered exactly what healing properties my crystal is providing me with.
Firstly, I've created a deep and relaxing meditative experience that allows you to connect with the energy of your crystal. It's certainly a wonderful journey that I take you on while providing you with Reiki at the same time. Therefore, this offers triple the healing experience.
Meditation is a healing experience, so too is Reiki, and lastly, the healing energy of your crystal is also offering you a healing experience.
Examining my Malachite and Chrysocolla
I begin my journey of relaxation by examining every aspect of my chosen crystal. I always marvel when you get additional crystals forming or merging with one another.
It's such a powerful piece of rock that is full of transformational energy that can be clearly seen. Thick heavy bubbles of differing shades of green are merged with the beautiful shade of Chrysocolla blue. Therefore, when looking at this crystal I get a sense of chaos and then peace, and calm due to the shade of Caribbean blue.
There's so much movement in this Malachite and Chrysocolla crystal. It seems to have taken powerful energy to form thick, stodgy bubbles. I can just imagine the power it took to force the molten rock to move prior to cooling down.
Healing in my crystal pool
Now that I've finished examining my crystal, I have enough information to focus on it in my mind's eye. During my meditation, I will be entering the beautiful heart of my crystal, to relax in its pool of healing water. Therefore, I need to focus on the colours, patterns, shape, and texture of the crystal so that I can visualise it when meditating.
My session of meditation begins with a relaxation of my body and mind using a beautiful flow of Reiki. This takes me deeper and deeper within the crystal and down into its waters. I'm now fully relaxing in my very own crystal pool and I began admiring the beautiful crystal walls. Beautiful light is shimmering off the crystal walls and begins forming beautiful rainbows in the mist.
What is Chrysocolla and Malachite good for?
All of a sudden, I begin thinking about how life can be a struggle at times and how sometimes, it's easier to give up. Thinking about it, I have been struggling lately with anxiety about getting a mortgage. However, I now try to find a positive aspect of this, and I start reflecting on all of the times I've struggled in my life. More importantly, I remind myself how I kept on pushing and as a result, growing stronger and stronger. Eventually, things do get better and it's a reminder to never give up.
Now, I'm smiling as I enjoy remembering my feelings of triumph and achievement. I'm feeling empowered!
Is this why I have chosen this stunning crystal to meditate with today?
I know which crystal to turn to in the future when I'm undergoing mental conflict.