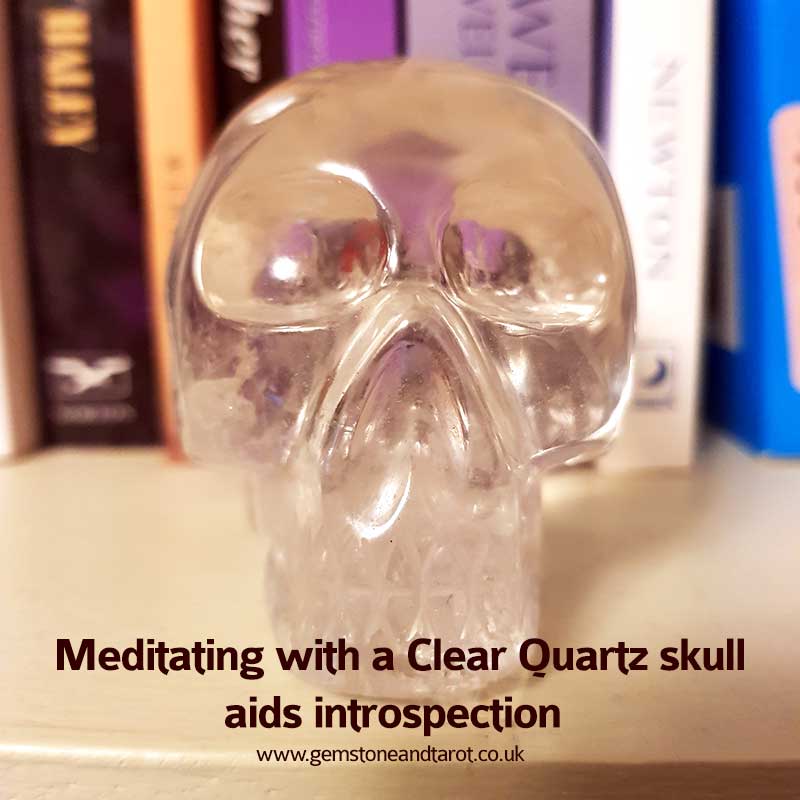 Meditating with Clear Quartz has taught me about the true power of this stunning crystal. This journal will reveal all.
Firstly, I chose my Clear Quartz skull to meditate with on day one. I felt at the time that I needed help with managing my anxiety as I'm allowing my fears to get the better of me. I needed to seek the truth about the situation that I'm choosing to be in.
Skull's allow for introspection, going inwards and this is something that I needed to work on.
My dream becomes a reality
Since 2020, I've been using moon magic and crystals to manifest my goals and dreams. I've already achieved success on my journey however, one of my original goals was more wishful thinking. I couldn't actually see a way of achieving it, but I never gave up. In fact, thinking about it, I put it out there and left it to the Universe. This is something that I normally struggle with.
At the time, Mark and I lived in a two-bedroomed, second-floor flat that we had outgrown. We don't have the savings to be able to get onto the property ladder. Therefore, my dream of owning a nice house, with a beautiful garden, workshop, and spare room for my healing was simply a dream.
Faith is taking the first step, even when you don't see the whole staircase.

Martin Luther King Jr
When manifesting your dreams, you must take steps and work on them to bring them to reality.
Every month, I would search for my ideal location and print out a photo of my dream house and stick it on my manifesting board. I would often spend time meditating on it by visualising us living in the home. More importantly, I would pay attention to my feelings when doing healing in the house of my dreams.
Manifesting my future home
Well, cutting a long story short, we are within reach of owning our own home, with a beautiful garden and a spare room to do my healing in. In fact, we are living in it right now and I'm providing Reiki attunements and other services from here. I really could not be happier. My dream is a living reality! So, why am I struggling with anxiety?
We are at the stage of pulling together various documents required to obtain a mortgage quote. Only the other day, we received our first quote and the monthly repayment is far more than what I'm expecting. BANG goes the anxiety and with this comes the 'what-if' game. Subsequently, I followed my instinct and began meditating with Clear Quartz.
Before you ask, no I'm not in a house that I placed on my vision board. The Universe works in mysterious ways and sometimes there is sadness too.
Meditating with Clear Quartz
So, making myself comfortable, I examined my clear Quartz crystal skull and the patterns within. When meditating with any crystal, it's important that you take in as much detail before beginning, as you will be picturing it in your minds eye.
My meditating with Clear Quartz begins with a lovely relaxing script full of Reiki healing that fills my body and aura with light. This light reflects off the crystal walls that surround me and I was deep within my Clear Quartz skull watching my very own aurora borealis. I felt strong, safe, and protected as I made my way down the most beautiful staircase and deeper into relaxation.
Eventually, I find the most amazing crystal pool and of course it's made out of Clear Quartz.
Here I began reflecting on my fears and I soon realise that I'm playing the 'what-if' game.
Clear thinking was my gift during my session of meditating. The truth is that my thoughts are simply not grounded. I need to commit to more me time, giving myself love and nurture. I need to do more meditating with crystals, which is something that I love doing. To me, it's crystal clear!
The Gifts of Meditating with a Clear Quartz Skull
Earlier, I mentioned how a crystal skull can aid inner reflection and going inwards. Well, I was certainly spending the most of my time meditating in bliss. The crystal waters soaked through to my soul, and it was calming and reassuring. Suddenly, a thought drifted into my mind, 'you cannot manifest your goals if you're not thinking clearly'. Amazingly, I remembered how Clear Quartz is an excellent crystal to aid you in manifesting your goals.
I spent my remaining time examining all of my achievements so far and in particular, enjoying the feelings of strength, achievement and happiness. Reflecting like this is a key component of manifesting your desires. Clear Quartz will most certainly help you to do this especially while meditating.
Being Present with Clear Quartz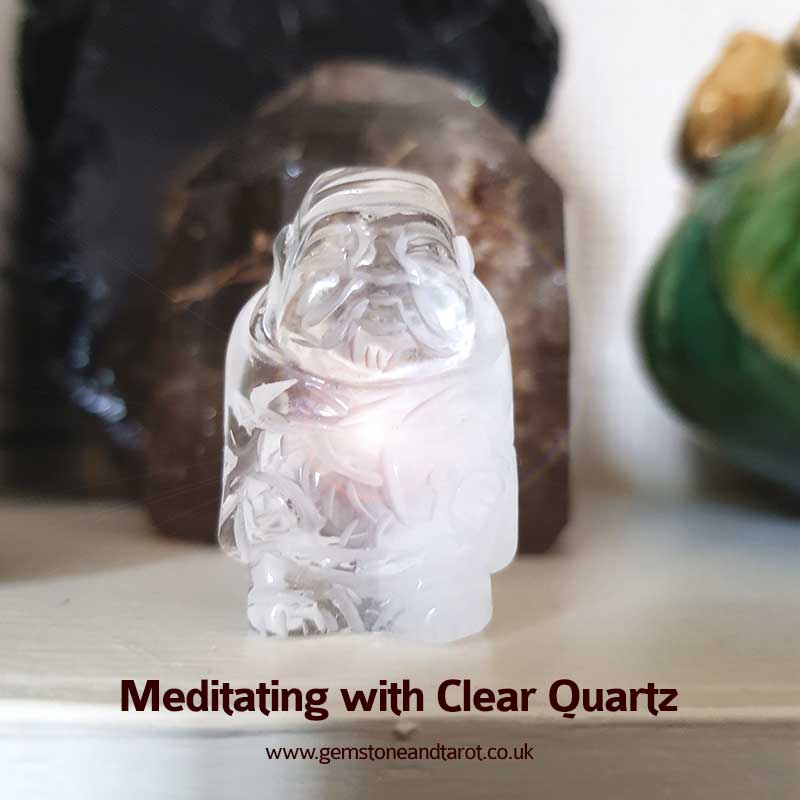 Day 2 and I decided that I'm going back to my crystal pool because it was so amazing. Honestly, I can just drift off into my own adventure when meditating with clear Quartz or any crystal.
Today however, instead of the skull, I decided to use my Happy Buddha carving because he brings me so much joy and happiness. I really do spend a lot of time talking to Happy Buddha, you must think that I'm bonkers!
During this meditation, my clarity of thought astounded me. Strong feelings of gratitude and happiness washed through me as I sat meditating in my crystal pool. Being present and understanding what I have now, and appreciating it is the answer to all my worries. There is absolutely no point in worrying about the future. I'm simply not grounded!
It's time to sort the facts out from the illusion. Without a plan, I'm not going to get very far.
Subsequently, this is what I'm doing at this moment. End of year accounts, which is so unbelievably boring however, I need to acknowledge truth instead of allowing my emotions to get the better of me.
Meditating with Clear Quartz has provided me with control and clarity. I have got this and I CAN do it!
Meditating with Crystals
Meditating with crystals is a service that I offer. You can read more about it here.