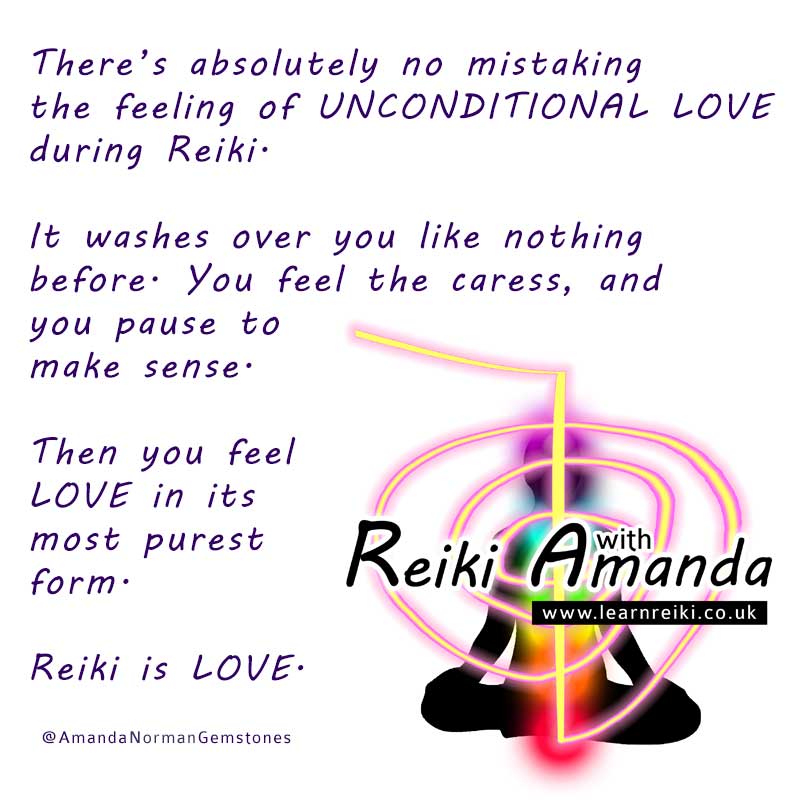 Reiki love is about how I recognise and feel the power of unconditional love in relation to practicing Reiki.
What is Reiki Love?
Reiki is a form of energy healing and I enjoy providing Reiki treatments and teaching it. In addition, I use Reiki everyday as part of my self-care routine. Therefore, it's no surprise that I now fully appreciate how Reiki is love in its purest form.
Secondly, of course I've had moments in my life of experiencing unconditional love. Nothing beats welcoming a new baby into your life or the love of a pet. However, there is something extra special about Reiki love. Furthermore, I can only describe it as an intense but beautiful feeling of pure love washing over me.
The more you practice Reiki, the more it will flow
It's true that the more you practice Reiki, the more it flows. I've never forgotten these wise words spoken by my Reiki Master, Pauline Mahony.
Clearly, since turning professional back in May 2021, I've enjoyed meeting new clients and treating them to something that's special. Furthermore, Reiki is a part of my daily life hence the increase in practicing it.
One day, and I wouldn't say that there was anything different about this particular day, I felt a feeling wash over me.
In particular, it started above my crown and went down towards the ground.
I felt like I was having an outer body experience as I looked upon myself, smiling at my client. Obviously, they had their eyes closed and were not aware of anything occurring. What's even more interesting is the feeling that I was pure light as though I was glowing. Most importantly, it was like this moment in time had slowed right down. Additionally, as I became more aware of it, I recognised a feeling of love and peace. I was in my present moment, at one with myself and at one with the Universe.
Summarising my feelings of Reiki love
Undoubtedly, my love of Reiki grows daily and it's an honour to be able to give this gift to others by way of attunement. There's no mistaking that to be a master of Reiki, you have to live and breathe it. How else can you learn something so beautiful that has the power to heal with feelings of love?
I always recommend that my students of Reiki, journal about their experiences as it helps one to grow. Reflection is such a valuable tool when used for progression. Indeed, I can't help thinking about my post titled Angel Love as I'm writing this and my intuition is telling me something. Was an angel in the room with me on this day?
Finally, I know that I'm referring to one particular day. To say that I experience this every time or once a month would be false information. I've felt it on another two occasions, but nowhere as near intense as on this particular day. Besides, I'm sure that more information will come to light soon, when I'm ready to learn more.
For now, peace, love and light to you all.