Are you having a midway crisis?
Sometimes in life, what seemed to be a good plan turns into a difficult situation. This can result in anxiety or a lack of motivation beginning to set in. Read on for some advice on how to regain motivation and move forward.
This post is prompted by today's tarot card which is the Five of Coins and my chosen crystal to assist which is Blue Chalcedony.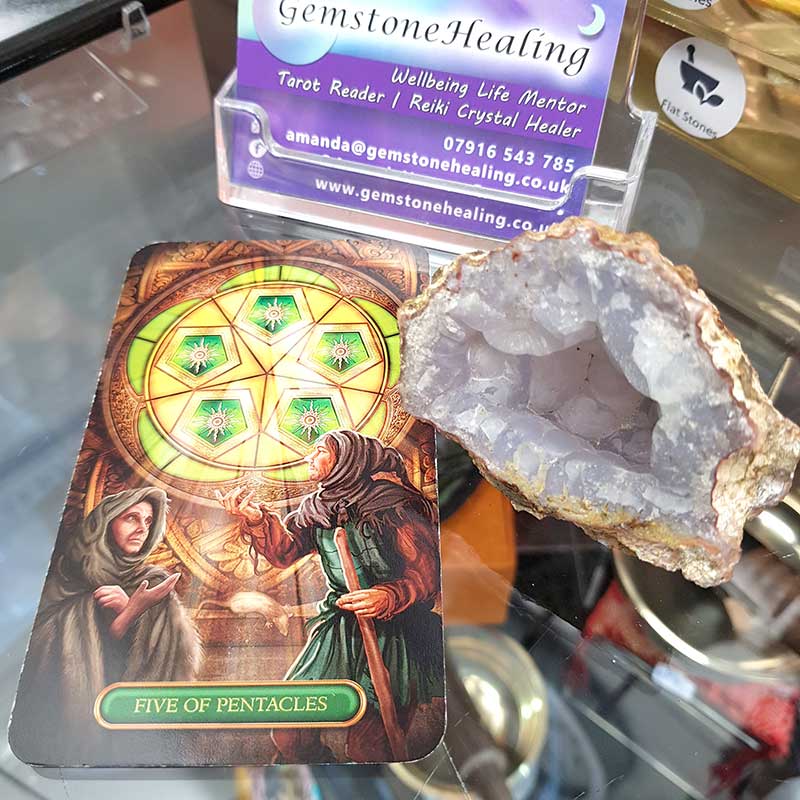 When working on a project or a career move, sometimes we can suffer a midway crisis that brings feelings of self-doubt and possible anxiety. What isn't normal is when the anxiety or any other negative feeling becomes so overwhelming that it affects the quality of your life.
Midway Crisis Tips
The first thing you need to do is set aside time to reassess your vision with a clear conscience.
You can learn a lot about your situation when taking time out to do some reflecting.
I've included some questions to help you reflect and my advice is to journal your answers. If you take your time, you will find your answers, but unfortunately, rushing will not get you anywhere.
There are many times that outside influences, especially those that we have no control over affect our plans. Too much worry and anxiety can certainly obscure the truth so it's a case of going back to basics.
Regain control exercise
Did you create a plan and if so, what changed to alter your plan and when did this happen?

If you had no plan, you have the opportunity to create one. Doing this allows you to take back control.

Is now the right time to continue your project or plan?

If yes, who will benefit and why?

Think back to a time you may have been in a similar situation and ask yourself, how did I deal with it then, and what did I learn?
Is my goal still feasible and if so, what do I need to make it happen? Consider timescales and your skills.
Do I have an up to date SMART plan that will not see me fail?
A SMART plan is key to achieving major projects or career goals. Investing your time in this will drive you forward with momentum and positive energy. Read my post, The Emperor and Manifestation for information on SMART objectives.
These are some of the questions you need to think about in order to move forward. If you decide to move forward, you will be in a better position to make it work, hence the midway point and the need to reassess.
Crystal of the Day – Blue Chalcedony
Blue Chalcedony is the the chosen crystal of the day as it works with your throat chakra, the first of our spiritual chakras.
Listen to your inner voice, listen to the truth and reflect upon your journey so far to be able to make the right move going forward. The soft blue is a calming influence that will help you meditate on this and connect with your spiritual guide.