While meditating with this beautiful piece of Green Tourmaline, I witnessed a vision of something that unnerved me. In my vision, I am walking behind a man through woodland and suddenly, something comes at him causing him to raise his hands to protect himself. I know that I sensed fear and I also physically felt myself jumping a few times but that's quite normal during deep meditation.
We are currently stocking Green Tourmaline in our Liverpool shop.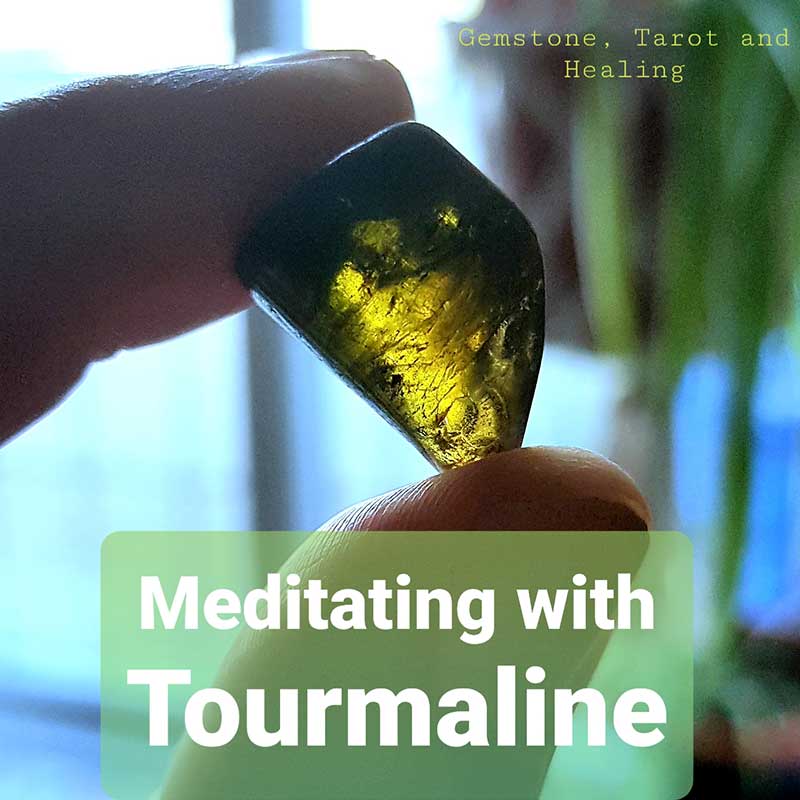 I never imagined my meditation could become a frightening experience and I suppose my words are a tad extreme. The fear isn't with me now and it wasn't when I finished. I'm more intrigued as to what just occurred and what it means for me.
Since obtaining my hypnotherapy certification, I've been creating relaxation scripts. It adds a whole new dimension to my experience of meditation. Subsequently, I've received great success with it both for myself and my clients, but today, my success has just increased.
I must point out that firstly, I don't see this experience as a negative meditation.
Secondly, I just need to break it all down so here goes.
Meditating with Green Tourmaline
My piece of Green Tourmaline is deeply exquisite and it's certainly a crystal that I can easily mesmerise myself with.
So, what do I already know about Tourmaline?
Black Tourmaline is extremely protective and is a wonderful crystal to work with.
Tourmaline is a birthstone for Libran's hence why I've always been drawn to it.
Prior to meditating with a crystal, I sit down to fully examine the colours, the texture, and its energy.
This Tourmaline gave me strong manifesting vibrations. It's certainly a stone of magical growth due to its golden colours that I can see deep within its heart. Surrounding the gold are shades of beautiful olive green.
This piece was connecting with my solar plexus and my heart chakra, and I could feel its power. Furthermore, I now fully understand how its energy will help me with one of the biggest decisions I'm going to make.
Healing my past
Sometimes in life and to go forward, you have to release all negative energy that you hold in your heart. This can consist of hatred, jealousy, emotional pain, a lack of forgiveness, and so on. Once released, you are free to transform and heal. I do believe that adding a crystal to a meditation doubles the healing energy, and I most certainly experienced a release of negative energy.
So how do I translate what I experienced today to my current situation?
I'm currently manifesting my dream home, which is within reach.
Manifesting a future home
The build-up of emotions surrounding this is a lot more intense than I imagined.
It was only the other day that I had a horrible nightmare where I witnessed violence. The man who I was in that dream was the man featured in this meditation. Subsequently, here is the first connection.
Furthermore, when applying the Jungian methodology to interpret my nightmare, I realised that my anxiety was heightened. Without going into too much detail, as a child, I was homeless due to violence. Now I find myself feeling those same emotions and I fear what my future holds. Will I be able to get a mortgage, and will everything work out happily ever after?
Anxiety almost ruined me to the point of severe depression and there's no way I'm going back to that.
Anxiety and Green Tourmaline
Sometimes we need to forgive ourselves for beating ourselves up.
It's very easy to do when things occur that are out of our control, and we have no way of knowing why they happened. To make sense of it all, we sometimes believe that we did something wrong to have experienced such trauma. I do know that in my case that I didn't do anything wrong. Unfortunately, it didn't stop me from thinking that there was something wrong with me and that people don't like me. I didn't like myself for a long time! 🙁
I grew up suppressing my emotional pain and the fear I experienced as a child. Whenever I tried to speak about it I was told, 'the past is where it belongs and why do you have to keep on bringing it up? Leave it alone and move on!'
Nowadays, I know that my elders took the wrong approach, which wasn't done out of malice. I am however still holding some of the baggage and this meditation along with my nightmare was a release.
Give Me Strength
Fear is at the root of my anxiety.
As a child, I feared not having anywhere to live in safety and fearing that we will always be on the run from HIM. These same feelings are back, but it's a different scenario, but the feelings are the same that's causing me anxiety.
I cannot allow my fear of what might happen, or might not, to hold me back from making the biggest and probably the happiest decision of my life. It\'s the feelings that are creating sleepless nights along with heightened anxiety.
Balance of heart and mind is required!
In summary, I know that I will put my faith in the Universe, and of course, I will apply common sense. If I knew that I couldn't afford a mortgage, I wouldn't be contemplating such a major transformation. Besides, life is for living and not being afraid to take a risk don't you think?
Green Tourmaline, therefore, offers me the following and I know that I've got this!
Manages anxiety
Gives me inner strength
Coping with challenges
Releasing trauma
Healing the past
Manifesting abundance
Protection
Spiritually enlightening.