In today's Reiki Journal, I write about the sensation of dipping my hands in pools of cool water during a Reiki session.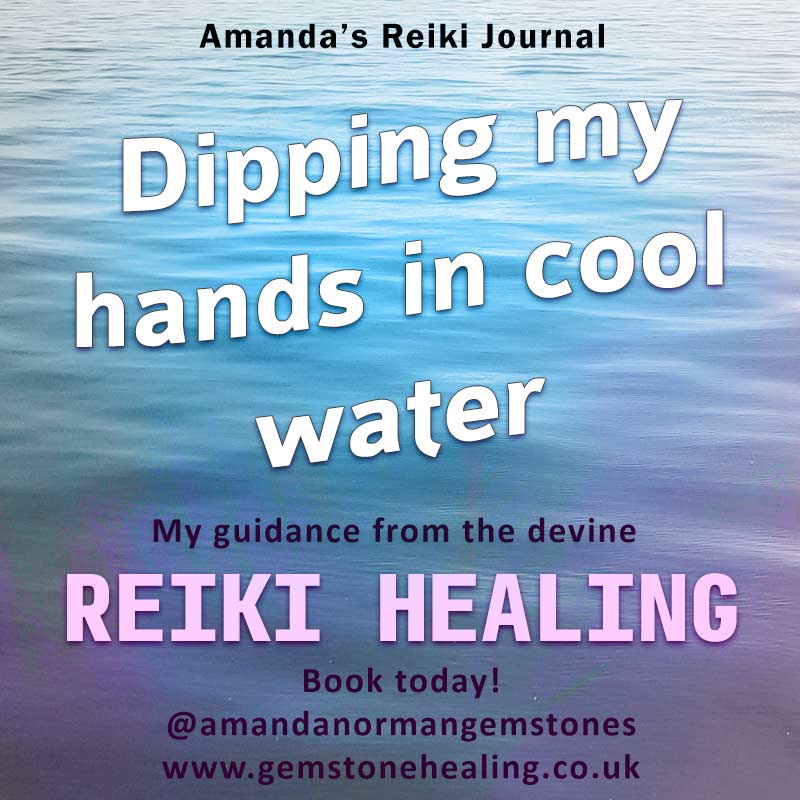 When channelling Reiki for a client, it is important that we obtain a sense of their energy prior to beginning. We need to ascertain any blockages of energy, and we can feel this with our hands.
Sometimes I can feel heavy patches, or a feather lightly brushing my hands. On rare occasions, I feel like I have dipped my hands in a pool of cool water.
It was like dipping my hands in a pool of cool water
I remember so vividly the first time I felt this sensation. It was not an alarming experience, it was in fact, lovely and peaceful. If I had to describe it in one word, I would use the word, 'healing.'
It was shortly after my Reiki II attunement that I first felt it. I put it down to incorporating the three power symbols to enhance the flow of healing energy.
It was above my client's heart chakra that I felt it. I remember checking to see if it was her breath on my hands, but it wasn't. I just could not find a logical explanation for feeling this sensation, and no other chakra felt like this.
Trusting my intuition
A good Reiki Master will teach their students to trust in their intuition.
I build my knowledge and confidence of trusting my intuition by writing about my experiences. They teach me so much when I re-visit them. Back in the early days, I told myself that it was a blockage of her heart chakra. Therefore, I held my hands their a little longer and on my next hand scan, the sensation had gone.
Months later, I came across an article about sealing one's aura. Overtime, we can develop holes in our aura that leave us vulnerable to negative energy. Again, my intuition tells me that the sensation I felt could have been a hole in her aura. It pays to continue your professional development by doing research.
Dipping my hands in cool water during Reiki is not something I feel on a regular basis.
The feather touch sensation is quite common for me to feel. Also, I do feel cool patches, which are very different to the pool of water sensation. I am confident that as my experience grows, I will be able to work all of this out.
More about Reiki
My Reiki journal is a collection of my thoughts and musings about my experiences of giving and receiving Reiki. Please click here to view my Reiki Journal.
Secondly, it's my goal to promote the beauty of natural energy healing, and I hope that I inspire you. I also encourage my Reiki students to journal about their experiences as it's a beautiful method of expanding our knowledge.
Amanda and her Reiki
If you would like to book a Reiki treatment, please visit my Reiki in Liverpool page. I also have a Reiki FAQ page and if you would like to be attuned to Reiki, please visit my Reiki training page.
Amanda is a member of the UK Reiki Federation.