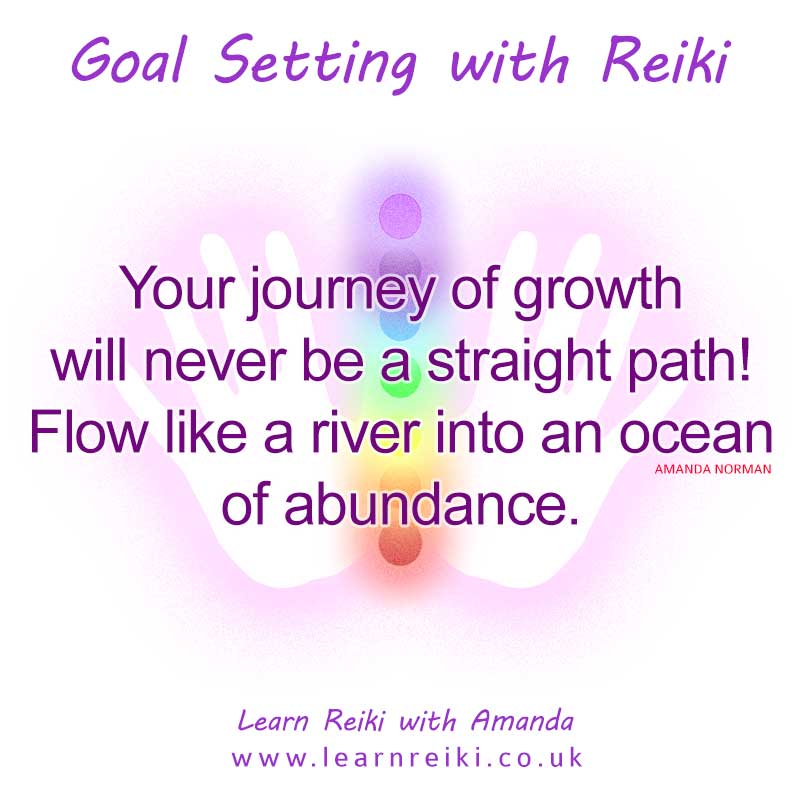 My latest journal features my progress with using the flow of Reiki to manifest my goals.
Firstly, I cannot express enough how exciting and revealing my current journey of Reiki is. Dare I be bold enough to claim that I connect to my soul for inner guidance and wisdom?
Well, yes, I can!
Profound wisdom is revealing itself to me during my relaxing flow of Reiki. Of course, my deep state of meditative relaxation is helping me discover the guidance attained from my soul. But why am I doing this?
My goal is in locating blockages within my mental, physical, emotional, and spiritual bodies. Once revealed, mental clarity paves the way forward resulting in the achievement of my goals.
The Flow of Reiki
To begin with, you do not need to learn Reiki to participate in a flow. Indeed, you can experience this flow during a Reiki treatment. However, what makes this different is my deliberate centring on achieving goals.
Soon, I will be offering it as a treatment and a workshop, but for now, I am enjoying the many benefits it brings while creating something new.
Learn to go with the flow
My latest adventure with manifesting my goals using Reiki provided me with this knowledge.
Now, before you say or think, 'well that's obvious is it not?' Well, yes, it is, but sometimes you need to FEEL IT and I felt this coming strongly from my crown and sacral chakras.

Your journey of growth will never be a straight path!
Flow like a river into an ocean of abundance.

Amanda Norman
If Reiki is flowing freely through your energy body without any restrictions, you will feel at one with yourself and source.
Can you remember the last time you felt at peace and at one with yourself?
It is not difficult for me to be experiencing this beautiful state of mind. Regularly practicing Reiki and mindful meditation helps me to achieve this feeling of oneness. However, I do have to admit that I find it hard to maintain without regular practice.
Struggling with motivation and confidence
Sometimes when we are on our path to reach our goal, we can become too rigid. We begin overthinking and allowing our mind to begin the merry-go-round of 'what if's.' Furthermore, resulting in our emotion of fear building, creating a lack of stability, and lowering our confidence.
Any past endeavours that have resulted in failure begin to surface subsequently, holding us back. This is especially true if you are not in touch with the very essence of YOU.
Our body feels this fear by way of tension.
The soul feels this as we withdraw inwards and retreat resulting in the suffering of our mental, and emotional health.
Of course, not everyone is the same. Sometimes, we are fully committed to achieving our goals and with regular, even daily self-care, we can reach for the stars.
We can go with the flow of life!
Life isn't straight forward
We do not live a straightforward life. The road to Paradise meanders as we travel upon it, just like a river flowing.
Too much control is rooted in fear!
Furthermore, fear can sometimes be a lack of acting, or a refusal to step off the merry-go-round and face your problems.
Begin with setting your path by forging your way forward using creative thinking but do not be rigid.
A good SMART plan allows freedom to meander like a river and navigate obstacles that get in our way. Reflection is a positive method of being in control.
To summarise my knowledge gained during this flow of Reiki, is to understand the importance of going with the flow. When we allow ourselves to relax, to enjoy being creative, and to plan our journey, we reap the rewards of achieving our goals.
There are so many events that can occur that we have absolutely no control over. Not foreseeing them or fearing change can present major obstacles. THE ONLY thing we have control over is the way we react!
Enjoying our journey helps tackle any obstacle with creative energy. Consequently, being rigid we cannot bend!
Sure, we can halt the flow of the river, but somewhere a pressure will be building preventing us from reaching our ocean of abundance.
Amanda and her Flow of Reiki
I provide Reiki treatments in Liverpool city centre as well as the Bowring Park area of Liverpool.
If you would like to book a Reiki treatment, please visit my Reiki in Liverpool page. I also have a Reiki FAQ page and if you would like to be attuned to Reiki, please visit my Reiki training page.
Amanda is a member of the UK Reiki Federation.