My latest post, Mystical Medleys and manifestation features the wonderful cards of Gary Hall together with my thoughts about my current situation. We are proud to stock this deck in our Liverpool shop.
The phrase that comes to mind after pulling these three cards is, from little acorns, mighty oaks grow!
At one time, I did chuckle at the idea of creating a tarot deck based on old-fashioned musical cartoons however, I have fallen in love with EVERYTHING about this deck. The packaging with cartoon characters popping up in unexpected places, the cards, and the guidebook that has the Ladybird feel to it, simply puts a warm-hearted smile on my face.
This is certainly a deck NOT to be ignored!
So, let's take a look at what it has to tell me today.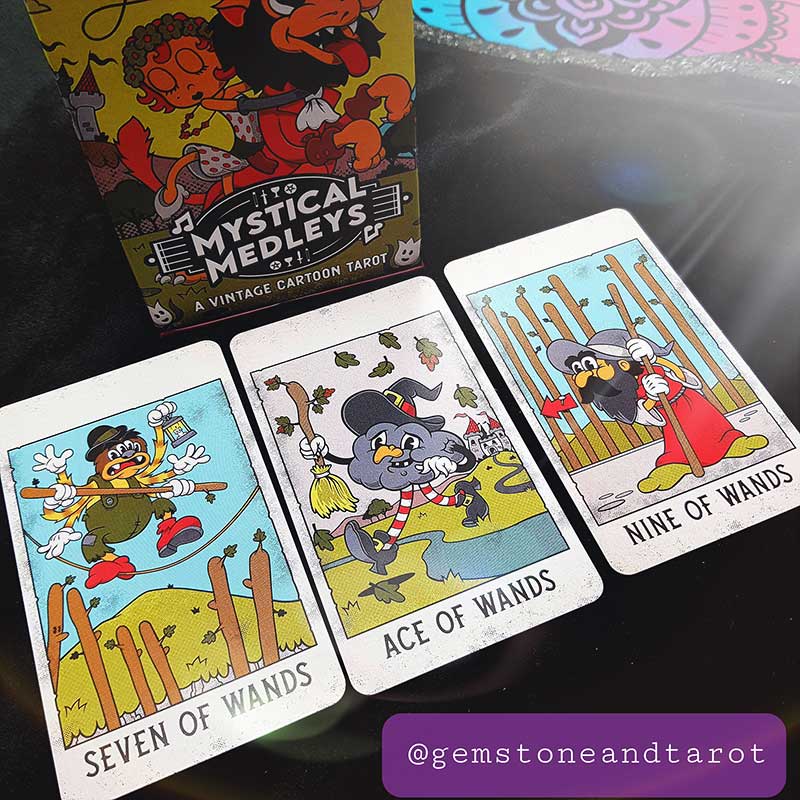 Mystical Medleys and Manifestation
There sure is a lot of change occurring around me that is to do with my life in general. I'm fortunate enough to be doing the job of my dreams and I'm also living in the house of my dreams with the most amazing man I've ever met. Yes, I know, you're most probably on the verge of gagging hahahahaha, but I did manifest it. Now I'm in the process of living with the consequences.
This spread reminds me that the wheel of life continually evolves, and my present situation is most certainly affected by the cost-of-living crisis.
The Seven of Wands
The Seven of Wands represents my situation and feelings.
I know the importance of maintaining a positive outlook on life, but I am of course worried about my present situation. Business is quiet and if I choose to dwell solely on the negative aspect of this, I will lose my motivation and creative spark.
In times like this, you must grab what is good and focus on this instead. My Reiki is taking off and slowly my hypnotherapy is growing. I love doing tarot readings, but my love and passion are being intensified by Reiki.
Lately, I've come to FEEL love, the pure essence of love. Reiki is love, it's beautiful, healing energy in its purest form. It's like nothing else and when you feel it, you do understand what it's like to discover peace and tranquillity. I'm getting this a lot at the moment when I provide both Reiki and Reiki attunement.
The Seven of Wands represents my current difficulties.
In this card from Mystical Medleys, he's continuing forward but it's a struggle. A balance needs to be maintained if the character is to continue forward. There's lots of life around him and the lantern he holds is a symbol of finding the light within. Reflection is required!
The stitched-up tear in the seat of his pants makes me smile. I love this card!
The Ace of Wands and Manifestation
The Ace of Wands represents what I need to know about my situation.
This is why I stated earlier that the wheel of life continues to turn, and this card reminds me that it's time to go with the flow.
From a little acorn, a mighty oak tree grows.
The acorn is a seed representing my ideas. If I plant the seed, nurture it and use my creative energy to grow it, I can create something big and strong. I needed this card today. I just can't tell you how happy I am that I'm reminded that I'm on the right path and I can grow my future to be bigger and better.
All obstacles in our way are life lessons. Face the challenge head-on with creative energy and you can't go wrong. The dark cloud character is marching forward, and nothing will stop him. That's the feeling I get from this card. Go forward, allow your creative energy, that spark of passion to carry you forward. Don't give up!
The Nine of Wands from Mystical Medleys
The energy I need to focus on is represented by the Nine of Wands.
This wizard character has stopped marching and he's holding his wand and looking in the right direction, but he's not moving like the dark cloud. You can see an abundance of growth around him and the arrow pointing forward.
It kind of balances out the Seven of Wands in my spread.
If I choose to make my life difficult, I will. I will stand still, and I will begin to feel overwhelmed. I will get lost in my fear and I will struggle with having the courage to keep on going. I'm within reach of my destination but what is my destination?
There are loose ends that do need tying, such as the house of our dreams becoming officially ours. I also want to build a solid reputation for being a caring and professional holistic therapist. With this comes clients to sustain my income but also the opportunity to feel good about myself. When I give my heart to my clients, I receive those positive feelings back. This is the life I want to sustain. I've created it, now it needs refining.
As for the Mystical Medleys tarot deck, what a fantastic and intuitive deck this is to read. I highly recommend it and we are proud to stock this at Gemstone and Tarot.
Take a look at in it in more detail here > Mystical Medleys